Most South African SMEs fail within the first few years due to lack of running capital and access to funding. As SME's ourselves with knowledge and experience in the business accounting sector, we know this problem all too well. That's why we created Investmint, South Africa's first peer-to-peer trade finance platform set to help accelerate the SME economy by giving business owners the financial boost they need to grow and succeed. 
Who can benefit from Investmint?
Investmint was created to help SMEs that have surpassed the start-up phase and are now ready to take the next step to grow their business. This is an exciting time, but it can be an uncertain time for your business's working capital. 
Coming from the business accounting industry in South Africa, we've worked with hundreds of SMEs and recognised one common denominator when it comes to what's holding a business back from growth.
When looking at a business's financial records, it might come across that a business is thriving, and technically it is, but behind the scenes, it can be an entirely different story. Slow paying customers, long-term payments and large purchase orders can put a significant strain on a business's running capital.
Financing your customers unpaid invoices and purchase orders is a burden for any business trying to grow. While you know that the money will eventually arrive, over an extended period of time, the lack of cash flow can have a negative impact on your business.
At Investmint, we offer invoice factoring and project financing loans to SMEs who want to expand their business but are held back by lack of running capital.
Through invoice factoring or project financing, your business can get the funds it needs to keep growing.
What is invoice factoring?
Invoice factoring uses a company's unpaid invoice(s) as collateral for a loan at a discounted fee. This form of funding is used in instances where a business cannot afford to wait for an invoice to be paid over a lengthy payment term.
It is a fast and flexible financing solution used to ease the burden on businesses lacking cash reserves.
How does invoice factoring work with Investmint?
You deliver goods or provide a service to your customers.
You invoice your client for the goods or services rendered but need that cash sooner than their payment terms allow.
To keep your cash flow afloat, submit a new project to Investmint with your invoice to allow investors to purchase the invoice. 
Once the Investmint team verifies your project, investors can purchase a portion or the full amount of your invoice.
Once 85% of the trade's value is secured, payment is made to you.
Once the invoice is settled by making a payment into the designated bank account, which is controlled by Investmint, the remaining 15%, minus fees, is paid to you.
What is project financing?
Project financing is the mechanism by which a company can obtain short term financing to meet its current cash flow requirements for a specific job or project. This form of financing is used in instances where large projects or contracts come on board and requires your business to have the funds to carry out the order on behalf of the client before they make payment.
Project financing allows you to onboard large and profitable projects or contracts that your business is not otherwise able to fund. Project financing ensures you don't have to lose out on large-scale business.
How does project financing work with Investmint?
You have a purchase order or contract with a client for goods or services that you provide, but you need cash to carry out the order.
To help fund the project before receiving payment from your client, submit a new project to Investmint with your purchase order or contract to allow investors to fund your project.
Once verified by the Investmint team, investors can purchase a portion or the full amount of your invoice.
Once 100% of the value of the trade is secured, payment is made to you.
You will then proceed to pay up to 3 monthly interest payments (according to the repayment schedule) to Investmint. Investmint then pays a portion of this to the investor(s), and finally, you make the last repayment of the full amount, which is repaid to the investor.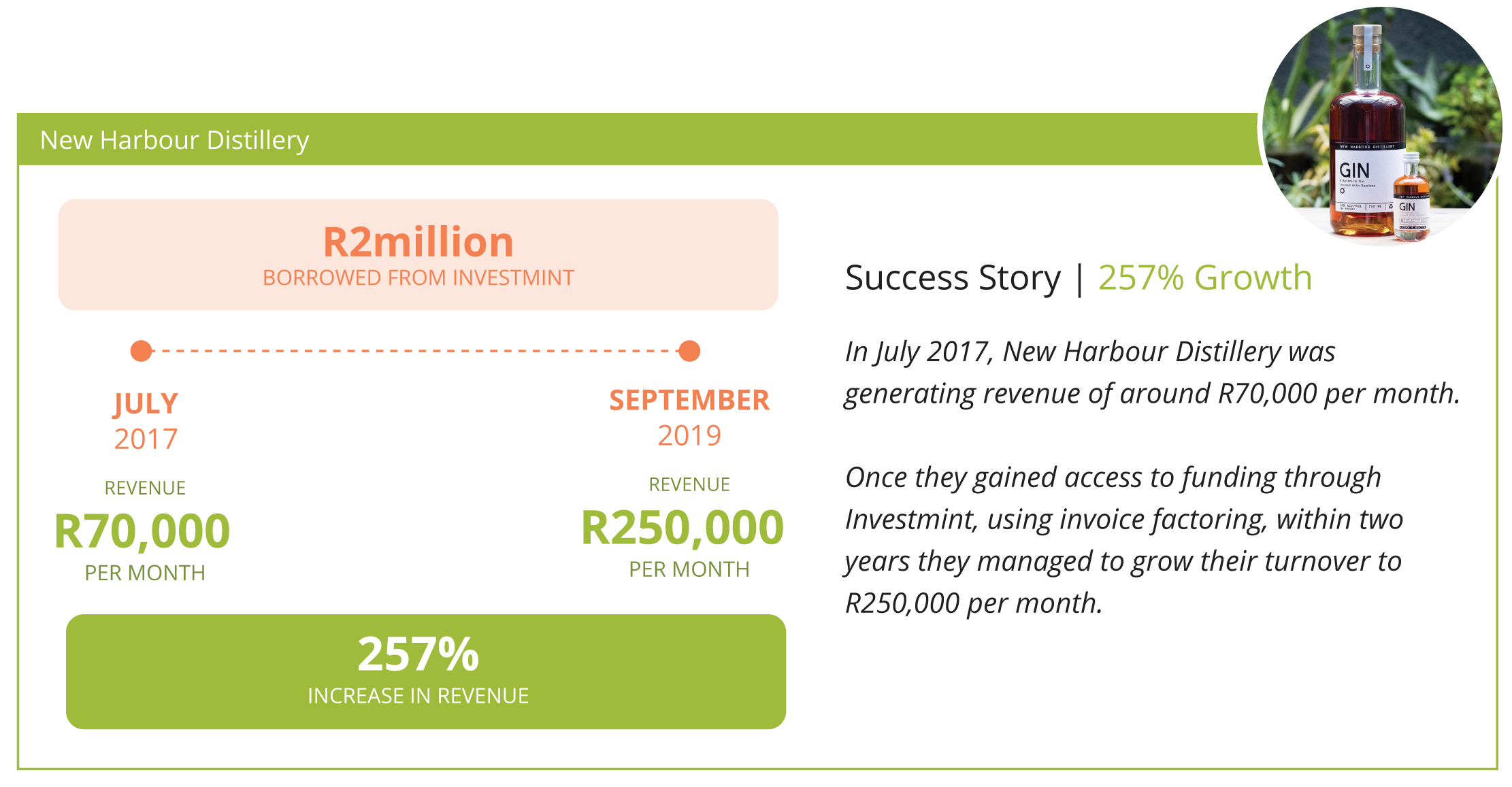 Sharing success stories
Growing businesses need support. Access to funding at the right time can be just what your business needs to reach that next level of success. 
One of our most recent SME success stories is from New Harbour Distillery, a Cape Town based distillery specialising in handcrafted spirits that are inspired by Africa's natural plant life.  
The founders, Nic and Andri Janeke have become figureheads in the South African craft spirits movement. Their niche is sourcing botanicals that have never been used in Gin, Whiskey or Rum before, thus creating something truly unique and delicious from the natural flavours of Africa. 
To grow their business, they joined the Investmint community and have received a total of R2 million in business loans through invoice factoring. 
Today their business is thriving. From earning a monthly revenue of R70,000, New Harbour Distillery has increased its turnover to a whopping R250,000. That's a 257% increase in revenue!
Success stories like this are why we do what we do. We want all South African business to grow, succeed and thrive.